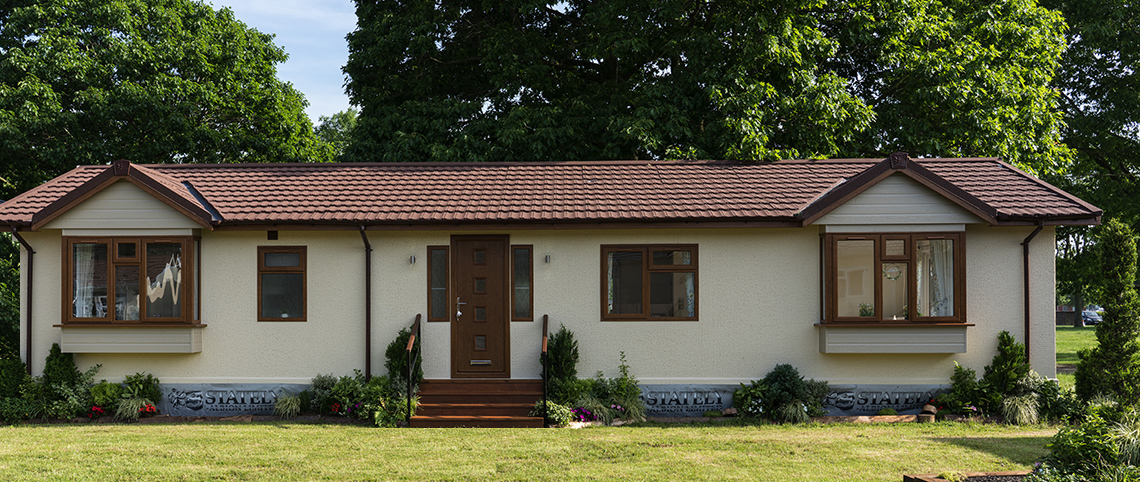 A retirement home packed with features
The Chatsworth Gold
One of many high quality homes that Wheatfield Park are please to be able to offer. Every home is fully customised to your need and wants.

"A home bathed in light, the Chatsworth Gold is where one can enjoy peace and tranquility with unrivaled luxury."

---
More information on the Chatsworth Gold
Designing and building customer-focused park homes has always been one of Stately-Albion's top priorities. They listen to customers needs and incorporate them into the specification. It is for this reason that Wheatfield park are pleased to feature this home on our Website.
This stylish quality home is certainly no exception to this principle of 'partnership'. Externally the 'Gold' benefits from two long bay windows to the side elevation in addition to the two standard bays at the front. The roof line is enhanced by a 3.5 meter gable fitted over the feature front door, with its two glazed side panels, which is available on homes over 42 feet in length.
The Chatsworth Gold is a classic design. The Gold has an elegant design bringing light into the home. Externally the Gold benefits from two long bay windows to the side elevation in addition to the two standard bays to the front, which are enhanced by Georgian glazing. You also have a choice of high gloss kitchen styles and accompanying fittings. You will be pleased to know that we now fully integrate your kitchen as standard.
As with all of Wheatfield Park Estate's homes, there's a wide range of options for you to choose from to help make your home unique to you.

https://www.stately-albion.co.uk/park-homes/chatsworth-gold
---
CUSTOMISATION – Your home as unique as you are
Built to your specifications, we can alter any home to accommodate your treasured furniture and other possessions.
The manufacturers of our homes can design the layout with your building with your favourite Queen-Anne side board, or french dresser, in mind.
Contact Wheatfield Park for more information.